Bay is one of the world's most popular websites, with thousands of items bought and sold every day. If you're looking to buy something; chances are it's on eBay.
With such a plentiful amount of customers available, why wait for them to come to you; when you can go to them? However, many can find creating an online store a difficult and time consuming process.
This infographic by e-store-design explores the 9 top tips when designing an eBay store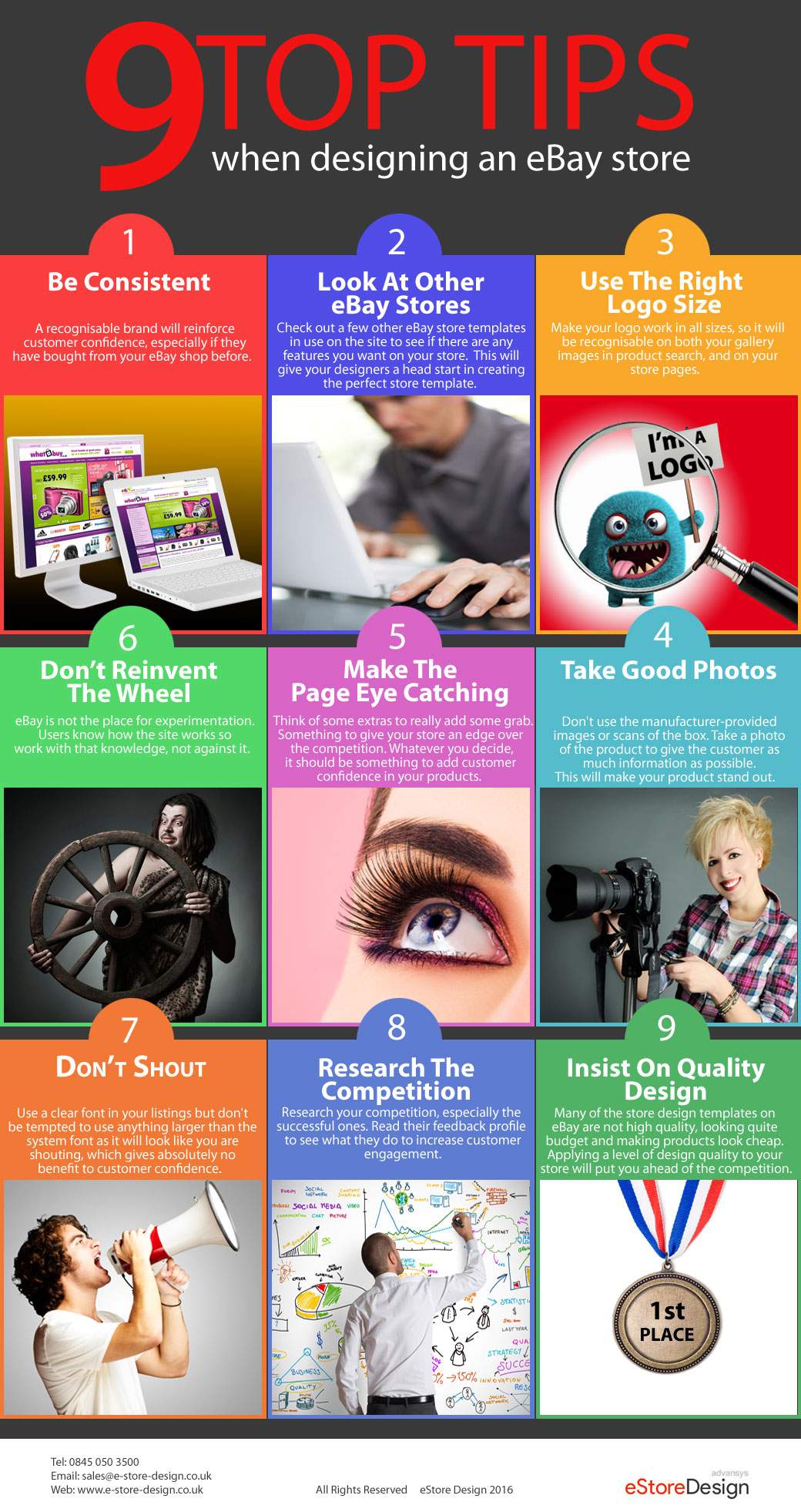 1. Be consistent - A recognisable brand will reinforce customer confidence, especially if they have bought from your eBay shop before.
2. Look at other eBay stores - Check out a few other eBay store templates in use on the site to see if there are any features you want on your store. This will give your designers a head start in creating the perfect store template.
3. Use The Right Logo Size - Make your logo work in all sizes, so it will be recognisable on both your gallery images in product search and on your store pages.
4. Take Good Photos - Don't use the manufactures-provided images or scans of the box. Take a photo of the product to give the customer as much information as possible. This will make your product stand out.
5. Make The Page Eye Catching - Think of some extras to add some grab. Something to give your store an edge over the competition. Whatever you decide, it should be something to add customer confidence in your products.
6. Don't Reinvent The Wheel - eBay is not the place for experimentation. Users know how the site works so work with that knowledge, not against it.
7. DON'T SHOUT - Use a clear font in your listings but don't be tempted to use anything larger than the system font as it will look like you are shouting, which gives absolutely no benefit to customer confidence.
8. Research The Competition - Research your competition, especially the successful ones. Read their feedback profile to see what they do to increase customer engagement
9. Insist On Quality Design - Many of the store design templates on eBay are not high quality, looking quite low budget and making products look cheap. Applying a level of design quality to your store will put you ahead of the competition.
To take advantage of bespoke store design services for eBay, don't hesitate to get in touch with the professional team at eStore Design today. You can reach our friendly team today on 0845 050 3500. Alternatively, send us an email and we'll get back to you as soon as we can!